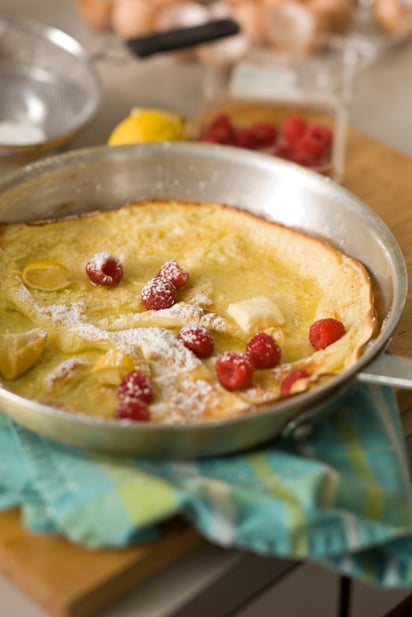 Puffy Pancake
A fluffy, kid-friendly Dutch Baby pancake recipe—complete with a how-to video!
Eggs, flour and milk combine to form a bubbly, puffy pancake, sometimes called a "Dutch Baby."
Ingredients (10)
2 T Butter
½ cup 2% Milk
½ cup All Purpose Flour
¼ cup Sugar
2 Eggs
1 T Butter
¼ tsp Ground Nutmeg
2 T Powdered Sugar (optional)
4 Lemon Slices
¼ cup Fresh Raspberries (optional)
Directions
Preheat oven to 425F.
Melt 2 tablespoons butter in 10-inch ovenproof skillet over medium heat, tilting to coat bottom and sides of pan.
Whisk together milk, flour, sugar, eggs, softened butter and nutmeg in bowl. Pour into skillet. Cook 1 minute.
Place pan in oven and bake 12 to 15 minutes, until puffed and golden. Squeeze lemon over top and sprinkle with powdered sugar and fresh berries. Cut pancake in pan and serve with a spatula. Serve immediately.