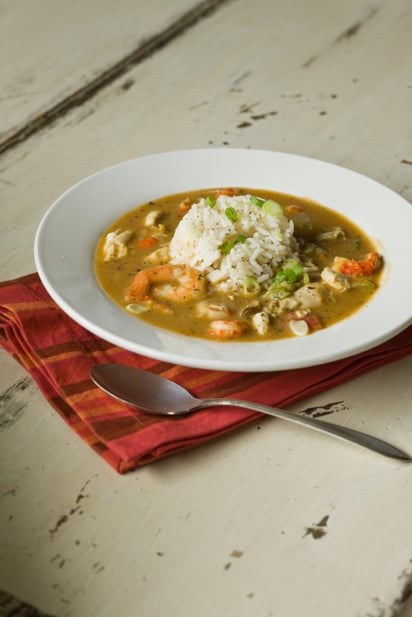 Seafood Gumbo
Enough gumbo for a party, and it's always a party when there's gumbo.
This gumbo starts with a medium-dark roux and the "Cajun Trinity": diced celery, bell pepper and onion. The reserved shrimp shells take a quick bath in the clam juice and broth mixture, making the gumbo super flavorful.
Ingredients (22)
¾ cup Vegetable Oil
¾ cup All Purpose Flour
½ tsp Dried Thyme
½ tsp Dried Basil
1 Dried Bay Leaf
1 T Salt
¾ tsp Cayenne Pepper
½ tsp Freshly Ground Black Pepper
½ cup Diced Celery
½ cup Diced Red Bell Pepper
or ½ cup Diced Orange Bell Pepper
½ cup Chopped White Onion
1 lb Okra
4 Garlic Cloves
1 qrt Low Sodium Chicken Broth
1 qrt Clam Juice
1½ lb Small Shell-On Shrimp
or 1½ lb Medium Shell-On Shrimp
14 oz Fire Roasted Diced Tomatoes
2 cup Fresh Oysters
1 lb Lump Crab Meat
1 lb Crawfish Tails
8 cup Cooked White Rice
4 Green Onions
Directions
Heat oil in a large stockpot over medium-high heat. Stir in flour; cook until smooth and darkened (about the color of a penny). Add thyme and next 10 ingredients (thyme through garlic). Cook until vegetables are tender. Remove from heat and cool about 30 minutes.
Bring chicken broth, clam juice and reserved shrimp shells to a boil in a large pot. Cook 10 minutes. Remove shrimp shells, and reserve stock.
Add vegetable mixture to stock and blend well. Cook until thickened. Add tomatoes, oysters, crab, crawfish and shrimp. Simmer 20 to 30 minutes. Serve over rice; sprinkle with sliced green onions.