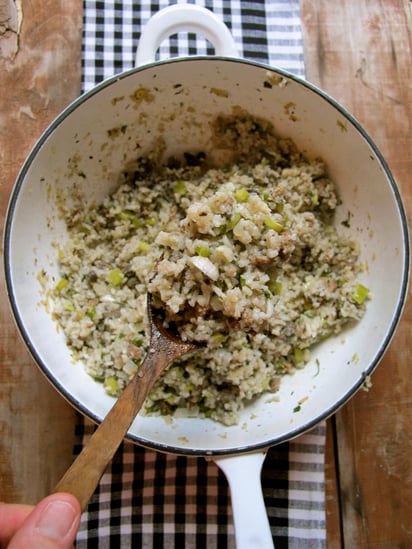 Dirty Rice
Ground pork and chopped chicken livers lend hearty flavor to this version of dirty rice.
If you're not a fan of chicken livers, you can leave them out of this recipe.
Ingredients (15)
2 T Canola Oil
4 oz Ground Pork
4 oz Chicken Livers
1½ tsp Salt
½ tsp Freshly Ground Black Pepper
½ tsp Chili Powder
1½ cup Chicken Broth
1 Onion
2 Celery Stalks
2 Garlic Cloves
1 Jalapeño Pepper
1 T Dried Oregano
3 cup Cooked White Rice
½ Green Onion Bunch
2 T Chopped Parsley
Directions
Heat oil in a large skillet over high heat. Add pork and chicken livers and cook, stirring, until browned. Add salt, black pepper and chili powder. Cook, stirring occasionally. The meat will stick to the pan and get a bit crusty.
Add 1/2 cup chicken broth and cook until it has evaporated, allowing meat mixture to get brown and crusty and stick to the pan once again. Add onion, celery, garlic, jalapeno and oregano and cook, stirring, until vegetables are browned and crusty and beginning to stick to the pan. Add rice, remaining broth, green onions and parsley. Stir until the liquid is absorbed and rice is heated through.