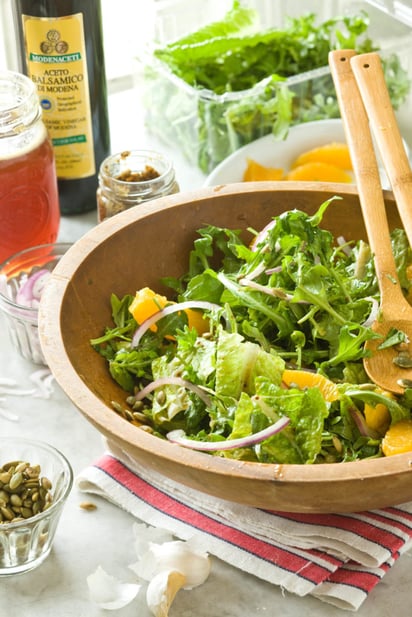 The Perfect House Salad
Start with a wooden bowl as your empty canvas, and design your way to a fantastic salad.
Ingredients
(11)
2 garlic cloves

1/4 teaspoon coarse salt

1 tablespoon whole-grain mustard

2 tablespoon honey

Freshly ground black pepper

2 tablespoon balsamic or fig vinegar

2 tablespoon extra-virgin olive oil

6 cup mixed greens, such as arugula and Romaine

1/2 cup roasted salted pumpkin seeds

2 oranges, peeled and sectioned

1/2 cup thinly sliced red onion
Directions
Mash garlic cloves with salt in a large wooden salad bowl. Let stand 10 minutes. Add mustard, honey, pepper, balsamic vinegar and oil. Stir well, and let stand at room temperature 30 minutes or all day.
Add greens, pumpkin seeds, orange sections and red onion. Toss well. Serve.