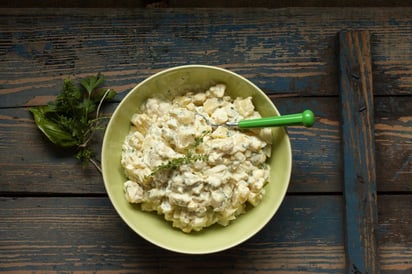 Potato Salad with Herbs
Potato salad gets a tasty kick with fresh basil, parsley and chives.
Ingredients
(9)
12 small to medium red creamer potatoes, new potatoes or Yukon Golds

5 hard-cooked eggs, chopped

1 small white onion, diced

2/3 cup mayonnaise

2 tablespoon Dijon mustard

1/2 cup each chopped fresh basil, chives and flat-leaf parsley

2 sprigs fresh thyme, chopped

1/2 teaspoon salt

Fresh ground black pepper
Directions
Place potatoes in a pan of cold water to cover. Bring to a boil. Cook 20 minutes or until just tender. Drain, let cool and peel (skins will rub off easily). Chop potatoes; place in a bowl. Add remaining ingredients. Stir gently. Makes 6 cups.