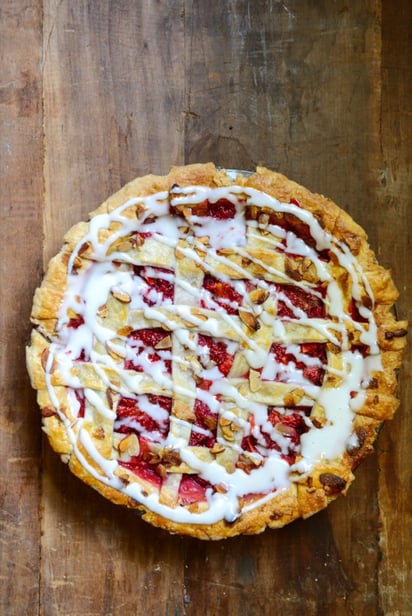 Strawberry-Raspberry Lattice Pie
A vibrant red peeks out between the gaps of a traditional lattice crust, all drizzled with a powdered sugar icing.
Ingredients
(18)
Crust:

2 cup all-purpose flour

2 tablespoon sugar

1/4 teaspoon salt

1/3 cup unsalted butter, chilled and cut into small pieces

1/3 cup chilled shortening

4 tablespoon (about) ice water

Filling:

2 1/2 cup small strawberries or large strawberries, cut into quarters

2 1/2 cup raspberries

2/3 cup sugar

3 tablespoon cornstarch

2 tablespoon orange marmalade, whisked to thin

1 egg whisked with 1 tablespoon water

1 tablespoon sliced almonds

1/3 cup powdered sugar

1 1/4 teaspoon water

1/4 teaspoon vanilla
Ingredient Facts and Health Benefits
Discover fascinating facts and health benefits about some of the ingredients in the recipe, including other delicious recipes!
Directions
To prepare crust, combine flour, sugar and salt in a large bowl. Cut in butter and shortening with fingers or pastry blender until mixture resembles coarse meal with some larger pieces. Add water and stir with a fork until mixture holds together. Shape into a ball, wrap in plastic wrap, flatten to a 4-inch disc and chill 1 hour.
Preheat oven to 425F.
Divide dough in half. Wrap and refrigerate one half. Roll remaining half on floured surface into a 12-inch circle; fit into a 9-inch pie plate.
To prepare filling, combine berries, sugar, cornstarch and marmalade in a large bowl. Mix gently with a large spoon. Pour into piecrust.
Roll remaining dough into a 12-inch circle. Cut into 8 to 10 strips. Arrange in lattice pattern over filling. Pinch and seal edges. Brush with egg and water mixture and sprinkle with almonds. Bake 10 minutes. Reduce temperature to 350F and bake 40 minutes or until crust is golden-brown and juices are bubbling. Let cool completely on wire rack.
Whisk powdered sugar, water and vanilla in a medium bowl until smooth. Drizzle over pie.