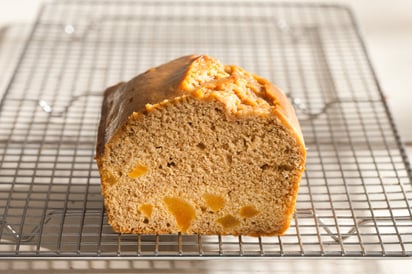 Lemon Apricot Tea Bread
This bread comes out of the oven a rich, deep golden color. While delicious when still warm, it's even better the next day; wrap or keep in air-tight container overnight.
This hearty, not-too-sweet bread is perfect for breakfast, toasted and spread with butter or cream cheese. Try adding chopped candied lemon slices in place of the grated lemon peel.
Ingredients (13)
Tea Bread
1¼ cup 2% Milk
4 English Breakfast Tea Bags
1 cup All Purpose Flour
¾ cup Whole Wheat Flour
14 T Sugar
2 tsp Baking Powder
¼ tsp Salt
1 Egg
¼ cup Canola Oil
1 T Fresh Lemon Juice
½ cup Chopped, Dried Apricots
Serve With
8 oz Butter (optional)
8 oz Cream Cheese (optional)
Directions
Preheat oven to 350F. Grease bottom of a 9 x 5-inch loaf pan.
In a small saucepan, heat milk over medium until hot by not boiling; remove from heat and add tea bags. Cover and let steep 6 to 7 minutes; remove tea bags, gently squeezing out milk, and discard bags. Let cool.
In a medium bowl, stir together flours, 3/4 cup sugar, baking powder and salt. In another medium bowl, combine egg, oil, lemon juice and 1 cup milk tea. (Mixture will curdle slightly.) Add egg mixture to dry mixture stirring just until moistened. Fold in lemon peel and apricots.
Spoon batter into bread pan. Bake 50 to 55 minutes, until a wooden toothpick inserted near center comes out clean.
Meanwhile, stir remaining milk tea with 2 tablespoons sugar. While bread is still in pan, brush tea-sugar mixture over top of loaf. Let cool in pan 10 minutes then remove to wire rack.