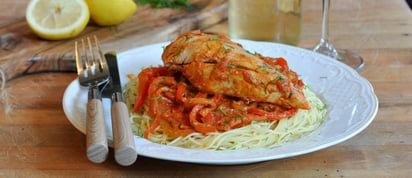 Rotisserie Chicken Paprikash
Enlivened with sweet peppers, smoked paprika, and cayenne, enriched with sour cream, and enabled with a chicken somebody else cooked.
Serve this easy yummy dish over noodles to get every bit of the luscious sauce.
Ingredients (17)
1 T Vegetable Oil
2 Red Bell Peppers
1 Onion
1 T Minced Garlic
1 T Smoked Sweet Paprika
¼ tsp Cayenne Pepper
½ cup Dry White Wine
1 cup Canned Crushed Tomatoes
½ cup Low Sodium Chicken Broth
1 Rotisserie Chicken
½ tsp All Purpose Flour
¼ cup Sour Cream
2 T Chopped Dill
1 T Fresh Lemon Juice
¼ tsp Sugar
½ tsp Salt
1 tsp Freshly Ground Black Pepper
Directions
Heat a large saute pan over medium-high heat. Add oil, peppers and onions; cook, stirring occasionally, until softened, about 8 minutes. Add garlic, paprika and cayenne; saute until just fragrant, about 1 minute. Add wine and cook, stirring, until nearly evaporated, about 2 minutes. Add tomatoes and broth and bring to a simmer. Cover, reduce heat to low, and simmer 3 minutes.
Remove skin from chicken and pull meat in large pieces. Add chicken to pan. Reduce heat to medium-low and simmer until thoroughly warmed, about 3 minutes.
Whisk flour into sour cream in a small dish. Slowly add to sauce and simmer 3 minutes more (do not boil). Stir in dill, lemon juice and sugar and sprinkle with salt and pepper.