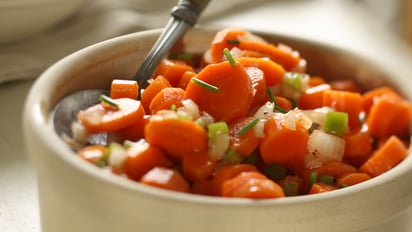 Marinated Carrot Salad
Canned soup adds zip and zing to this easy summer side.
Be sure not to overcook the carrots. They should be tender but not mushy. The carrots need to marinate at least overnight in the dressing, but the salad keeps well in the refrigerator for 1 to 2 weeks.
Ingredients (10)
2 lb Carrots
15 oz Canned Tomato Soup
½ cup White Vinegar
½ cup Vegetable Oil
¾ cup Sugar
1 tsp Salt
½ tsp Freshly Ground Black Pepper
1 Green Bell Pepper
1 Yellow Onion
or 1 White Onion
¼ cup Chopped Parsley
or ¼ cup Chopped Chives
Directions
Cook the carrots in a large pot of lightly salted boiling water until just tender when tested with the tip of a sharp knife, about 5 minutes.
While the carrots are cooking, combine the soup, vinegar, oil, sugar, salt, pepper, bell pepper, and onion in a large bowl.
Drain the carrots, and add them while hot to the dressing. Stir well and marinate at room temperature at least 2 hours. When cool, cover the bowl tightly with plastic wrap and refrigerate for at least 1 day before serving.
Stir in the parsley or chives.
When serving, be sure to dish up both the carrots and spoonfuls of the delicious marinade.