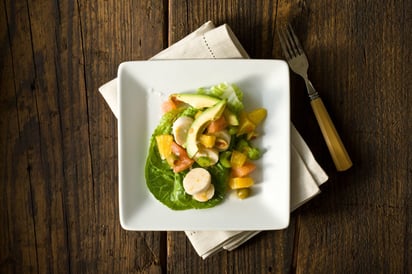 Marinated Hearts of Palm
Add a teaspoon of honey to the vinaigrette to make it a little sweet or a mashed malaguete pepper to make it a little hot.
Ivory-colored hearts of palm are the tender center of a palm variety originally native to the Amazon. Since the tree, at about 6 feet tall, must be killed to reach this core, it is thankfully no longer wild-harvested, but sustainably cultivated.
Ingredients (14)
Vinaigrette
⅓ cup Extra Virgin Olive Oil
1 Lemon
1 Lime
1 Orange
½ tsp Kosher Salt
or ½ tsp Sea Salt
1 tsp Freshly Ground Black Pepper
Salad
28 oz Canned Hearts of Palm
2 Green Onions
4 Celery Stalks
1 Orange
1 Grapefruit
3 T Diced, Pimento Stuffed Green Olives
To Serve
4 cup Salad Greens
or 4 cup Spinach
or 4 cup Spring Mix Salad Greens
or 8 Romaine Lettuce Leaves
1 Avocado
Directions
To prepare vinaigrette, combine all ingredients in a small bowl. Whisk well.
To prepare salad, combining all ingredients in a medium bowl. Pour vinaigrette over top and toss well. Cover and refrigerate at least 1 hour.
To serve, place greens on 8 individual salad plates. Spoon hearts of palm mixture on top. (If using romaine, place a spoonful of salad at the end of each leaf and serve one leaf per person.) Garnish with avocado.