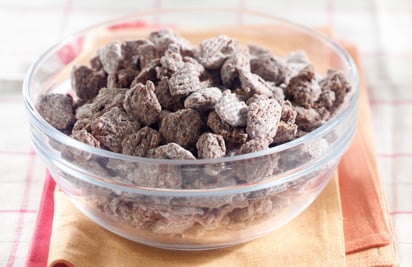 Chocolate-Peanut Butter Puppy Chow
Kids love the fun name of this sweet snack mix that is for people, not dogs.
Ingredients (4)
12 oz Semisweet Chocolate Chips
or 12 oz Bittersweet Chocolate Chips
⅓ cup Peanut Butter
6 cup Crispix Cereal
1 cup Powdered Sugar
Directions
Place chocolate in a large bowl and microwave at MEDIUM 1 minute. Stir until chips are melted. Add peanut butter; stir.
Pour cereal into a large bowl. Pour chocolate mixture over cereal.
Spoon sugar into a large zip-top plastic bag. Add cereal mixture and shake.