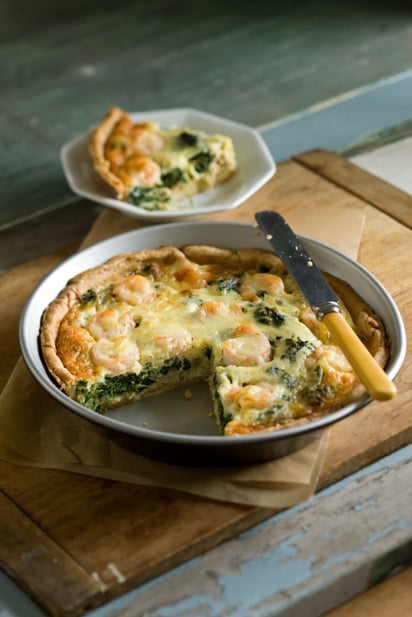 Seafood Quiche
Sweet shrimp and crab and a creamy custard in a deep-dish pie.
This luxuriously rich quiche is best in small bites. Be sure to squeeze the spinach dry after thawing. When baked, the quiche is still a little wet in the center, but it sets up as it cools.
Ingredients (10)
4 oz Swiss Cheese
1 Frozen Deep Dish Pie Crust Shell
5 oz Lump Crab Meat
10 oz Frozen Chopped Spinach
4 oz Peeled and Deveined Small Shrimp
4 Eggs
1 cup Heavy Cream
⅔ cup Half and Half
½ tsp Salt
¼ tsp Cayenne Pepper
Directions
Preheat oven to 350F.
Place half the cheese in pie crust. Top with crab, spinach and shrimp. Top with remaining cheese.
Beat eggs slightly in a large bowl. Beat in remaining ingredients. Pour over seafood and cheese.
Bake 15 minutes. Reduce temperature to 300F and bake 50 minutes longer, or until a knife inserted into the center comes out clean. Let stand 10 minutes before cutting into wedges.