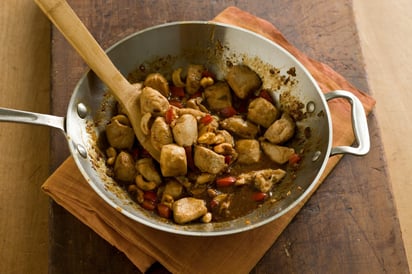 Cashew Chicken
A sauce of sherry, balsamic vinegar and soy sauce coats the chicken in this classic Chinese dish.
As American as it is Chinese, this irresistible favorite features chunks of tender chicken and sweet red bell pepper in a rich sauce, with a shower of buttery cashews. The nuts are not exactly low fat, but it's the good fat.
Ingredients
(23)
Marinade and chicken:

1 tablespoon reduced-sodium soy sauce

1 tablespoon dry sherry

2 teaspoon cornstarch

1/2 teaspoon toasted sesame oil

1 egg white, lightly beaten

1 1/4 pound boneless chicken breasts, cut into 1-inch pieces

Aromatics:

1/4 cup minced green onions

1 tablespoon minced garlic

1 tablespoon minced peeled fresh ginger

1 teaspoon chili garlic sauce

Sauce:

1/4 cup reduced-sodium chicken broth

3 tablespoon reduced-sodium soy sauce

1 tablespoon dry sherry

1 tablespoon balsamic vinegar

1/2 teaspoon toasted sesame oil

2 teaspoon sugar

1 teaspoon cornstarch

1 tablespoon canola oil, divided

1/2 cup roasted, unsalted cashews

1 cup diced red bell pepper
Ingredient Facts and Health Benefits
Discover fascinating facts and health benefits about some of the ingredients in the recipe, including other delicious recipes!
Directions
To prepare marinade, whisk all ingredients (except chicken) together in a medium bowl. Add chicken, and refrigerate 30 minutes.
To prepare aromatics, combine green onions, garlic, ginger and chile sauce in a small dish.
To prepare sauce, combine sauce ingredients in a small jar.
Heat a 12-inch skillet over high heat until searing hot. Add 1 teaspoon oil, then half the chicken. Cook, without stirring, 2 minutes. Turn and cook another 2 minutes. Remove from pan before thoroughly cooked. Repeat with another teaspoon of oil and remaining chicken.
Warm cashews in a small skillet over low heat.
Add remaining 1 teaspoon oil to original pan. Add green onion mixture; stir-fry 30 seconds. Add bell pepper. Saute until just crisp-tender, 2 to 3 minutes.
Return chicken to pan; toss. Shake sauce and add to pan. Cook until sauce thickens slightly. Add cashews to chicken; toss gently.