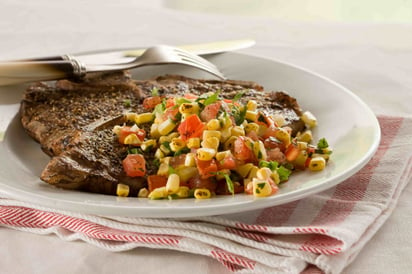 Fire-Roasted Corn Salsa
A classic Southwestern salsa just made for a plump and juicy grilled steak.
Ingredients (10)
2 Tomatoes
1 Ear of Corn
¼ cup Diced Sweet Onion
1 Jalapeño Pepper
½ cup Chopped Cilantro
1 Garlic Clove
2 T Fresh Lime Juice
½ tsp Ground Cumin
¼ tsp Freshly Ground Black Pepper
½ tsp Salt
Directions
Prepare the grill.
Place tomatoes and corn on grill grate over high heat until lightly charred and tender.
Dice tomatoes. Cut kernels off corn. Combine tomatoes and corn kernels with remaining ingredients.