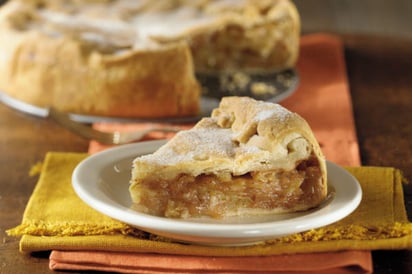 Rustic Apple Pie
A bountiful pie that makes enough for a crowd.
This double-crusted pie is made in a springform pan, making it more substantial than the average pie.
Ingredients
(13)
Crust:

2 1/2 cup all-purpose flour

1 teaspoon salt

3/4 cup vegetable shortening

6 to 7 tablespoon ice water

Filling:

4 pound tart apples (such as Granny Smith), peeled, cored and sliced

1/2 cup all-purpose flour

1 1/2 cup sugar

1 teaspoon cinnamon

1/2 teaspoon salt

3 tablespoon butter, cut into small pieces

Cinnamon-sugar (optional)
Ingredient Facts and Health Benefits
Discover fascinating facts and health benefits about some of the ingredients in the recipe, including other delicious recipes!
Directions
Preheat oven to 375F.
To prepare the crust, mix flour and salt in a large bowl. Cut in shortening using a pastry blender or two knives until mixture resembles coarse meal. Add ice water 1 tablespoon at a time. Stir gently and gather into two balls, one about twice as large as the other.
Roll out larger ball on a lightly floured surface until it is large enough to cover the bottom and sides of a 9-inch springform pan, with about 2 inches of overhang. Roll the smaller dough ball into a 9-inch circle.
To prepare the filling, combine apples, flour, sugar, cinnamon and salt; toss well. Spoon into prepared crust. Sprinkle pieces of butter on top. Place top crust over filling. Fold overhang evenly around the top crust. Cut 10 to 12 slits in top crust. Sprinkle with cinnamon-sugar if desired. Bake about 1 hour or until crust is deep golden and the filling oozes through the slits.