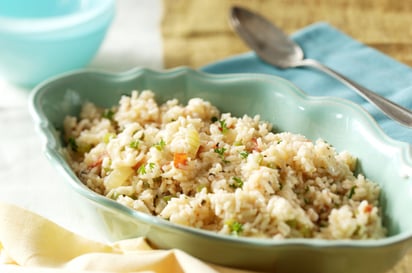 Spanish Rice with Tomatoes and Oregano
The tomato and oregano transform simple rice into a spectacular side dish.
Spanish rice is prepared by browning rice first with onions and garlic before cooking it in chicken broth. If your kids like green beans, double the amount.
Ingredients (9)
2 T Olive Oil
½ Yellow Onion
1 Garlic Clove
1 Tomato
¼ cup Diced Green Beans
1 cup Long Grain White Rice
½ tsp Dried Oregano
½ tsp Salt
2 cup Low Sodium Chicken Broth
Directions
Heat olive oil in a large skillet over medium heat. Add onion and garlic; cook, stirring occasionally, 3 minutes.
Stir in tomatoes and beans; cook 3 minutes. Add rice, oregano and salt; stir well and cook 1 minute, until rice is lightly browned.
Add broth; bring to a boil. Reduce heat to low. Cover and cook 15 to 25 minutes, until liquid is absorbed.
Remove from the heat; let stand 5 minutes. Fluff with a fork before serving.