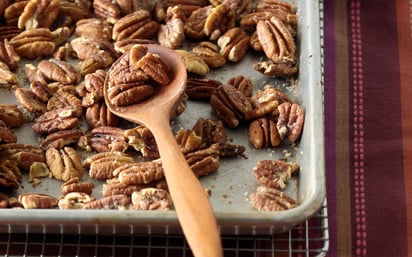 Oven Roasted Salted Pecans
Be careful! These buttery nuts are addictive.
Amazing what a little butter and salt can do for a nut. These are addictive and a great way to rejuvenate stale or less-than-fresh nuts.
Ingredients
(3)
5 tablespoon unsalted butter

2 teaspoon salt

2 pound (about 5 cups) pecans
Ingredient Facts and Health Benefits
Discover fascinating facts and health benefits about some of the ingredients in the recipe, including other delicious recipes!
Directions
Position rack in the center of the oven and preheat to 250F.
Melt butter and add salt, mixing together. Pour over pecans, tossing to coat well. Pour pecans evenly onto a rimmed baking sheet.
Bake about 60 minutes, stirring occasionally, until lightly toasted and barely colored.