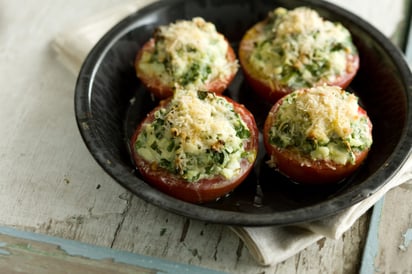 Stuffed Baked Tomatoes
A classy side dish to make when your bumper crop of tomatoes comes in.
Ingredients
(5)
2 -- tomatoes

1 cup small curd cottage cheese or ricotta

1/4 cup chopped fresh spinach, basil or arugula

2 -- garlic cloves, minced

1/2 cup finely grated Parmigiano Reggiano cheese
Directions
Preheat oven to 400F. Cut tomatoes in half crosswise. Combine remaining ingredients.
Divide evenly among 4 tomato halves. Bake. Bake 10 to 15 minutes or until hot and browned.