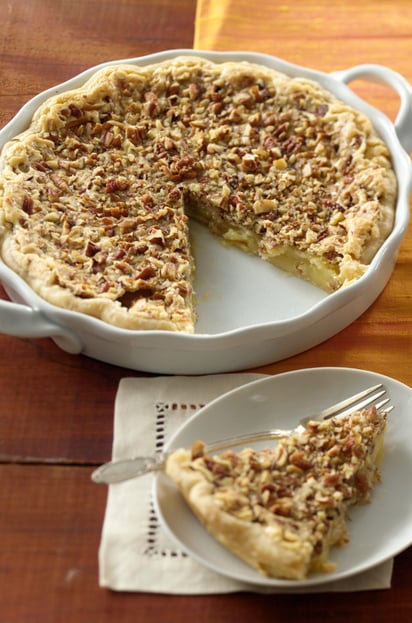 Buttermilk Pecan Pie from Pearson Farm
Buttermilk offers a tangy counterpoint to the pie's sweetness.
Ingredients
(13)
Pie Crust:

1 1/3 cup all-purpose flour

1/2 teaspoon salt

1/2 cup vegetable shortening

3 to 3 1/2 tablespoon ice water

Filling:

3 Eggs, beaten

1 1/3 cup sugar

2 tablespoon flour

8 tablespoon (1 stick) melted unsalted butter

1 teaspoon vanilla extract

1/4 cup buttermilk

1 cup pecan pieces (or chopped pecans)
Ingredient Facts and Health Benefits
Discover fascinating facts and health benefits about some of the ingredients in the recipe, including other delicious recipes!
Directions
To prepare the crust, combine flour and salt in a bowl; cut in shortening with a pastry blender or 2 knives until mixture resembles coarse meal.
Sprinkle surface with ice water, 1 tablespoon at a time; toss with a fork until moist and crumbly. Press mixture gently into a 5-inch circle; wrap in plastic wrap. Chill 15 minutes.
Flour dough lightly. Roll into circle between sheets of waxed paper on dampened countertop. Peel off top sheet. Flip into a 10-inch pie plate. Remove other sheet and press pastry to fit. Fold edge under. Flute.
Preheat to 275F.
To prepare the filling, beat eggs with a whisk. Add sugar and flour; beat well. Add melted butter, buttermilk and vanilla. Stir well.
Sprinkle pecan pieces evenly into the pie crust; pour in egg mixture.
Bake about 1 hour or until golden brown and set.