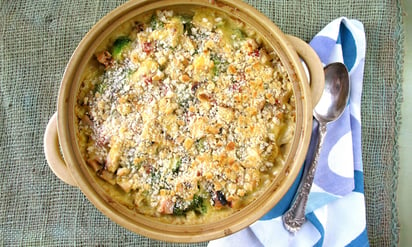 Chicken and Broccoli Casserole
A wide, shallow baking dish, such as a gratin or casserole, provides plenty of space for the crumbs on top of this homey chicken dish.
Ingredients (12)
6 cup Broccoli Florets
6 oz Boneless, Skinless Chicken Breast
¼ cup Chopped Roasted Red Bell Pepper
11 tsp Butter
3 T All Purpose Flour
1½ cup Milk
1 cup Low Sodium Chicken Broth
¼ tsp Ground Nutmeg
½ tsp Kosher Salt
¼ tsp Freshly Ground Black Pepper
4 oz Sharp Cheddar Cheese
1 cup Fresh Breadcrumbs
Directions
Preheat oven to 425F. Coat a 10-inch round gratin dish with cooking spray.
Steam broccoli in steamer rack over boiling water 4 minutes or until bright green and tender. Arrange broccoli in gratin dish and top with chicken and red pepper.
In medium saucepan, melt 3 tablespoons butter over medium heat. Add flour, cook 1 minute, whisking constantly. Add milk and broth; cook, whisking almost constantly, until mixture comes to a boil. Reduce heat so mixture bubbles gently; cook, whisking constantly, 2 minutes. Stir in nutmeg, salt and pepper. Remove from heat and stir in cheese. Pour over gratin.
In a small skillet, melt remaining 2 teaspoons butter; add bread crumbs and mix to combine. Sprinkle over gratin. Bake 10 minutes or until bubbling hot.