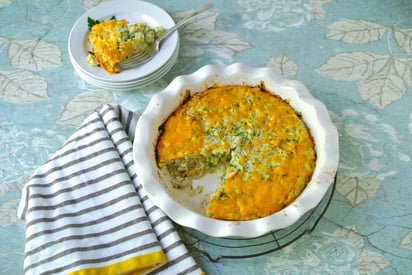 Crustless Rice and Zucchini Pie
A simple, crustless quiche that makes the most of the zucchini crowding gardens and groceries this time of year.
Ingredients (8)
2 Eggs
1 cup Milk
2¼ cup Cooked Long Grain Brown Rice
1½ cup Grated Zucchini
3 T Chopped Flat Leaf Parsley
½ tsp Salt
¼ tsp Freshly Ground Black Pepper
4 oz Sharp Cheddar Cheese
Directions
Preheat oven to 375°F. Coat a 9-inch pie plate with cooking spray.
In a large bowl whisk eggs and milk. Stir in rice, zucchini, parsley, salt, pepper and ½ cup cheese. Pour into pie plate. Sprinkle with remaining ½ cup cheese.
Bake 30 minutes or until a knife inserted in middle comes out clean. Let stand 10 minutes before serving.