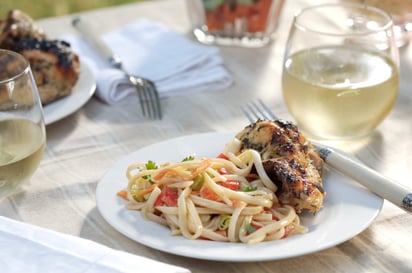 Sesame Noodles with Shredded Vegetables
Meatless and filling—and fun to eat.
Use rice vinegar, not the sweeter "seasoned" rice vinegar. Look for dried udon noodles and red chile oil in the Asian aisle of your market.
Ingredients (12)
6 T Toasted Sesame Oil
3 T Tahini
or 3 T Creamy Peanut Butter
2 T Low Sodium Soy Sauce
2 T Unseasoned Rice Vinegar
2 tsp Minced Fresh Ginger
1½ tsp Sugar
1 tsp Chili Oil
1 Carrot
1 Cucumber
1 Red Bell Pepper
10 oz Udon Noodles
or 10 oz Whole Wheat Spaghetti
4 Green Onions
Directions
Whisk sesame oil and next 6 ingredients (sesame oil through chile oil) in a large bowl.
Add remaining ingredients; toss well to coat. Cover and refrigerate up to 3 days.