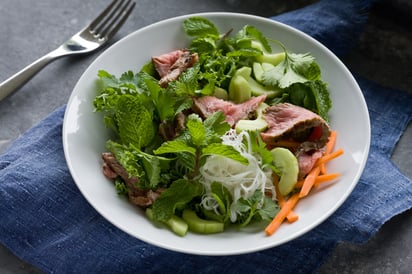 Grilled Thai Steak Noodle Bowl
Serve this room-temperature, easy-to-assemble supper throughout the summer.
Ingredients (14)
Dressing/Marinade
3 T Fish Sauce
3 T Fresh Lime Juice
or 3 T Bottled Lime Juice
2 T Sugar
1 Garlic Clove
1 Shallot
2 tsp Chopped Fresh Ginger
1 Ribeye Steak, 10–12oz
or 1 Strip Steak, 10–12oz
or 1 Top Sirloin Steak, 10-12oz
6 oz Rice Vermicelli
For Serving
4 Green Leaf Lettuce Leaves
or 4 Red Lettuce Leaves
1 Carrot
1 Cucumber
½ cup Cilantro Leaves
½ cup Fresh Mint
4 T Sriracha (optional)
or 4 T Hot Sauce
Directions
To make dressing, combine fish sauce, lime juice, water, sugar, garlic, shallot and ginger in a small bowl and stir until sugar dissolves. Put steak in a shallow bowl, pour in 1/4 cup of dressing and marinate 15 to 20 minutes.
Cook noodles according to package directions.
Preheat grill for high heat. Lift steak from marinade, pat dry and grill for 4 to 5 minutes per side for medium-rare. Let rest for 10 minutes before slicing it into very thin strips.
To serve, tear lettuce into the bottom of 4 bowls. Add noodles and add carrots, cucumber, cilantro and mint. Top with steak and dressing. Add a splash of sriricha, if using.